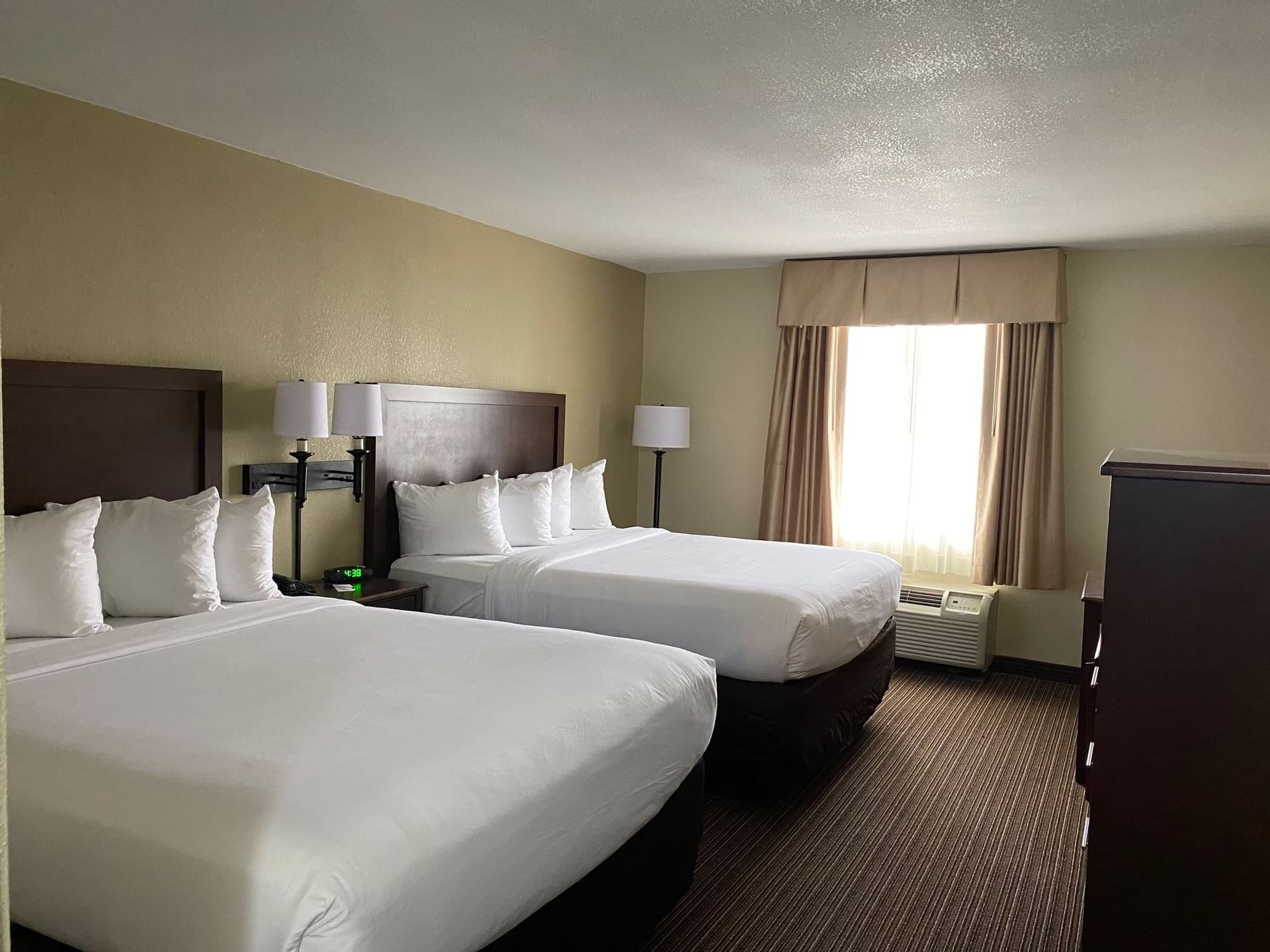 Health and Safety
Our hotel's health and sanitation measures are designed to address a broad spectrum of bacteria and viruses, including COVID-19. We have adopted the American Hotel & Lodging Association's Safe Stay initiative which focuses on enhanced hotel cleaning practices and workplace protocols to meet the new health and safety challenges presented by COVID-19. We are closely monitoring government policy changes, Centers for Disease Control (CDC) guidelines, government mandates, and public health advancements and will continue to make changes as necessary or appropriate to our protocols and procedures. Below are some of the additional steps that we are taking to ensure the safety of our guests, our associates, and our community.
Employee & Guest Health
Physical Distancing: Guests will be advised to practice physical distancing by standing at least six (6) feet away from other groups of people not traveling with them while standing in lines, using elevators, or moving around the property. Restaurant tables and other physical layouts will be arranged to ensure appropriate distancing. Employees are reminded to practice physical distancing by standing at least six feet away from guests and other employees whenever possible. The hotel will comply with, or exceed, local or state mandated occupancy limits.

Hand Sanitizer: Hand sanitizer dispensers, touchless whenever possible, are placed at key guest and employee areas such as hotel lobby, lounge entrance, meeting space, elevator landing, fitness center, restrooms, and throughout the back of the house for employees.

Informational Signage: There are health and hygiene reminders throughout the property including social distancing, hand hygiene, and sick persons disclaimer.

Employee & Guest Health Concerns: Employees are instructed to stay home if they do not feel well and are instructed to contact a manager if they notice a coworker or guest with a cough, shortness of breath, or other known symptoms of COVID-19. Employees and guests who are exhibiting any of the symptoms of COVID-19 while at the property are instructed to immediately notify the Manager on Duty.
Employee's Responsibilities
Hand Washing: Correct hygiene and frequent handwashing with soap is vital to help combat the spread of viruses. All Atrium Hotel employees have been instructed to wash their hands, or use sanitizer when a sink is not available, every 60 minutes (for 20-seconds) and after any of the following activities: using the restroom, sneezing, touching the face, blowing the nose, cleaning, sweeping, mopping, smoking, eating, drinking, entering and leaving a guest room, going on break and before or after starting a shift.

COVID-19 Training: All employees have received training on COVID-19 safety and sanitation protocols with more comprehensive training for our teams with frequent guest contact including Housekeeping, Food & Beverage, Public Area, and Front Office.

Personal Protective Equipment (PPE): Appropriate PPE will be worn by all employees based on their role and responsibilities and in adherence to state or local regulations and guidance. Gloves will be provided to employees whose responsibilities require them as determined by medical experts including housekeeping and public area attendants.
Cleaning Products and Protocols
Public Spaces and Communal Areas: The frequency of cleaning and sanitizing has been increased in all public spaces with an emphasis on frequent contact surfaces including, but not limited to, front desk check-in surfaces, elevator buttons, door handles, public restrooms, room keys and locks, stair handrails, gym equipment, dining surfaces and seating areas.
Guest Rooms: Industry leading cleaning and sanitizing protocols are used to clean guest rooms, with particular attention paid to high-touch items including television remote controls, toilet seats and handles, door and furniture handles, water faucet handles, nightstands, telephones, in-room control panels, light switches, temperature control panels, alarm clocks, luggage racks and flooring.
Laundry: All bed linen and laundry will continue to be washed at a high temperature and in accordance with CDC guidelines. Dirty linen will be bagged in the guest room to eliminate excess contact while being transported to the laundry sorting facility.
Shared Equipment: Shared tools and equipment will be sanitized before, during and after each shift or anytime the equipment is transferred to a new employee. This includes phones, radios, computers and other communication devices, payment terminals, engineering tools, cleaning equipment, keys, time clocks and all other direct contact items used throughout the hotel.
Air Filter and HVAC Cleaning: The frequency of air filter replacement and HVAC system cleaning has been increased and fresh air exchange will be maximized.
Cleaning and Disinfectant Products: We use a variety of EPA-registered disinfectant products that will kill 100% of bacteria and viruses on hard, non-porous surfaces and will also sanitize soft, porous surfaces. Our products are distributed by Ecolab, a leading supplier of healthcare and hospitality establishments. All cleaning products with a kill claim for COVID-19 appear on the EPA's "List N" of registered antimicrobial products for use against SARS-CoV-2 – the coronavirus that causes COVID-19. Our employees are trained in the proper full-strength application of these products in accordance to the product label. Below are the disinfectant and sanitation products that we use:
Peroxide Multi Surface Cleaner and Disinfectant: This is our primary multi surface cleaner and disinfectant used on all public space and guest rooms surfaces to include but not limited to glass, marble, wood, chrome, doors, rails, fixtures, control panels, and guest use items.
Quat Sanitizer: This highly effective sanitizing solution is used as both a spray and immersion for food contact surfaces and equipment. This is used on restaurant workspaces, dining tables, bars, and for guest room items such as glassware and ice buckets.
Minimized contact with guests while cleaning hotel rooms: Stay-over room cleanings will be upon request only throughout the duration of your stay. Guest room attendants will offer to return at an alternate time for occupied rooms. Employees are not permitted to enter occupied guest rooms for stay-over room cleanings. If guests are present these services will not be performed. Amenity replenishment will always be available upon request.